Ravelry, Politics, And Me
If you are a member of the fibre arts community you'd be hard pressed to remain unaware of a decision that has created a strong reaction in the community this week. I'm writing this piece as I know I have a lot of followers who do not knit or crochet, and may be wondering what is going on, but also because I think I need to make my own thoughts on the matter clear.
A lot of people have posted IG snapshots and tweets to say they support (or, indeed, vehemently disagree with) Ravelry's new policy, but I felt like I needed to think on this more and explain why I think this decision is important and what my position is.
I joined Ravelry back in 2007 when the site and I were both a lot younger and my ideals were not as strong as they are today. But a lot has changed in the world in those 12 years and the increasingly extreme state of politics perhaps has strengthened resolve and opinion for a lot of people.
Ravelry's Statement
On Sunday 23rd June, Ravelry made an announcement on their front page of a new policy, banning support of Donald Trump and his administration. I dare say many people who will read this that have already read the statement, and it has certainly raised a lot of strong opinion.
Ravelry has garnered a lot of praise from a large number of its users for taking such a forward stance, where other websites have been slow to condemn even the most overt racism and hate groups. Here in the UK and elsewhere in Europe we have seen the rise of a number of far right organisations that have openly used social media to gain advantage. Work by social media platforms in condemning and banning hate speech has been too slow. In a monumental 'hold my beer' moment, Ravelry has added specified and stated support of Donald Trump's administration to the list of unacceptable behaviour on its website.
The Reason
Ravelry gives its reasoning in its statement, but the catalyst for what lead for the decision to be made and the statement posted on Sunday has not been expressed.
It may or may not be something driven by actions within the community itself, but as a member of the site who has even been somewhat removed from the fibre arts this year I am aware that there have been a number of projects seen to be inflammatory, carrying slogans such as 'Build The Wall' and 'Pro Trump, Pro USA, Pro Life', and a hat with a rainbow theme which the author states:
"As Christians we need to remember that God gave us a rainbow. It was a promise between God and His people. Our secular world has taken the beautiful meaning and perverted it. This pattern is meant to inspire people to embrace the TRUE meaning of the rainbow".
This was pattern was posted during Pride month, an event which Ravelry supports.
A member of the community complained about one of these patterns, on the basis that it drove hate against a marginalised group. The member who made the complaint then had her personal information shared online amongst pro-Trump members and it was reported that a campaign of harassment followed.
Whether this led to any part of the Ravelry decision has not been said, but a great number of community members felt that a strong line needed to be taken against this behaviour.
The Reaction
The first wave of reaction, most visably seen as responses to Ravelry's Twitter post announcing the policy change, seemed overwhelmingly positive. Users were grateful, but soon the backlash started. Not just from Trump-supporting Ravelry members who took exception to the term 'white supremacy' and the belief that Ravelry was labelling Trump supporters as supporting this personally, but from the much wider American conservative support on Twitter.
The responses range wildly, but many are quite strongly worded, so please bear that in mind if you decide to read for yourself to garner the strength of response. There are a huge number of replies from angry men with usernames like Chuck78673923 and George82451295 who are tweeting to tell Ravelry that nobody cares. Literally thousands and thousands of nobodies there, caring.
And there are lots of people telling Ravelry that they will be buying their yarn from another yarn shop now (Raverly does not sell yarn) and quite a few people who may or may not even have accounts saying that they will delete those accounts.
I think the majority of negative responses fall into two fields though; the ones that state that you can't be an inclusive platform when you practice exclusion, and those that are insistent that their freedom of speech is being illegally violated. There are even a fair number citing a law from California that they clearly haven't read properly in the belief that privately owned website owners are legally obliged to give platform to all opinions, equally. This isn't in the slightest bit true. Honestly, if someone posts something racist, homophobic or damaging to any other marginalised group on this website it will be deleted. This is my space, and I welcome people to use it with a my house, my rules understanding. Ravelry have decided that they are going to enforce their rules in their house.
Free speech does not work in the way that those people are insisting it does. You could spend many words explaining it, but this excellent and much-shared comic from xkcd has it in a nutshell: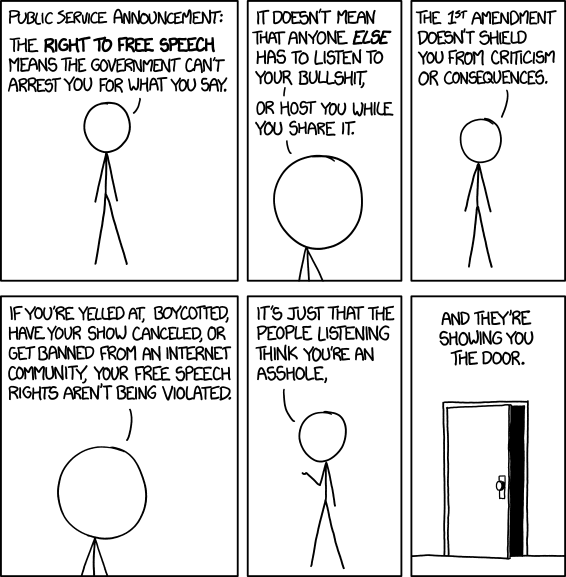 Ravelry have stated that "We cannot provide a space that is inclusive of all and also allow support for open white supremacy. Support of the Trump administration is undeniably support for white supremacy", and this is the section that seems to have drawn the greatest amount of ire from Trump supporters. Trump supporters are almost universally insisting that Ravelry is straight out calling each of them a white supremacist, which many have jumped to assuming that Ravelry are insinuating that they are running around with pillowcases on their heads. Ravelry owns the intention behind their words, but that's not what the statement says.
It is stated that support of the Trump Administration is support of white supremacy. As far as I can see, it goes like this: if you support, vote for, and praise a racist Prime Minister on account of him once introducing a bike scheme and making you laugh on a panel show that one time, but let slide the racism and misogyny that he displays in daily life, you are supporting a racist Prime Minister.
Ravelry also has not, despite the repeated claims, banned any group of members for their political beliefs. It has simply instilled a 'my house, my rules' policy and asked all members to stick to it. All members, of all countries and all political affiliations are still welcome, they're just asked to not post one particular area of content. Conservative and Trump supporting fibre enthusiasts are welcomed to come and talk about their knitting and crochet. They can wax lyrical about lawn mowers, their aunt Shiela's bunions, how to grow carrots, or any other topic. But of course, that is a choice that each member needs to make for themselves.
My Position
I am from the UK, so I am not a Democrat or a Republican. American politics are the most tense that I can remember in my lifetime and I find it very difficult to look at what is happening in the US and current administration without feeling horror. This isn't an American problem, though. Donald Trump is the global face of a shift towards far right ideology that we are seeing across the Western world.
Here in the UK we are on the brink of finding ourselves with a Prime Minister that the public have had no part in electing. The last Prime Minister sat on her hands whilst initiating a period of austerity that has hurt marginalised people, hard. She made no effort to right the devastating wrongs done to the people born here as part of the Windrush Generation, and saw no justice done to the victims of Grenfell.
We are within a whisper of seeing the UK headed by a man who described black people as being… actually, I refuse to even type these words on my site, so you can read it about it here, instead. When he was the editor of The Spectator he oversaw the publishing of an article that stated "Orientals … have larger brains and higher IQ scores. Blacks are at the other pole". Speaking about about Malaysian women attending university, Johnson said "Female students go to university because they have got to find men to marry" and in case you were wondering what kind of person he was trying to attract to voting for his party, he said "Voting Tory will cause your wife to have bigger breasts and increase your chances of owning a BMW M3".
So, as awful as I find Trump and his administration, and what they are doing on so many fronts, such as the squalid conditions of the child detainees at the Mexican border, it is not just an American problem. It's much wider than that, and Trump sits at the head of the table.
Quite apart from their bufoonish attitudes, ridiculous hair and an insistence on creating such a firestorm of lies that you don't get time to refute one before 20 more have come to take its place, these men are out to change the face of politics to a more exclusionary and frankly more dangerous place for a lot of marginalised groups. Far right groups love these leaders, because they are leading great swathes of people. Sometimes the politicians and leaders will try to distance themselves from some of their most fervent follower groups, but if you lay down with dogs, you're going to get fleas, and if you make your rhetoric so amenable to a far right mindset, then you are going to have to live with the knowledge that you have gained a few passengers.
What's Next? A Question Of Us
As far as my site goes, and my social media presences, it is status quo. There has never been a time when, if someone came in to my space to spread hate or attack marginalised groups I wouldn't delete that post and ban that person. I can not make this safe space to all, or for myself, whilst being tolerent of intolerance. This is a moderated space that I welcome everyone into, but it is my site by my rules. This site has never experienced any problems in that regard, and I hope that is how things shall remain.
As a more practical move, though, I am going to be donating all of the proceeds of my pattern sales for the next month to a UK women's charity, Refuge. I don't make much so it shall not be a great deal, but it's one small thing I can do. Its the only money I make at the moment so though the amount is small I hope this gesture does not fall short.
I thought long and hard what to do for my part in this, and this is what I can do. As a marginalised group in the UK, homeless women and children have suffered under the policies brought about by our current government policies. There are so many worthwhile charities both here and abroad, but I know the hard work this charity does in supporting vulnerable women and children and helping them stay together in safety.
I have seen a lot of people post about their donations to Ravelry, who have received multiple threats of future financial hardship from people who will not shop there in the future (though, to be honest, most of them were from people saying they wouldn't be buying their yarn there, so I presume a lot never did shop there anyway). Regardless, this will probably hit their margins. I would never tell anybody else not to donate, but though I made a small contribution yesterday (£2.63 – it was what I had in my Paypal account), something just felt wrong. I think it's because, really, I know that the people at Ravelry are likely better off than I am, but certainly better off than people that need urgent help and support. The people that are being really hurt by politics. That may be refugees, victims of policies that split families, people denied basic rights of living, and many others.
One way for everyone to win is to buy a pattern from somebody who is donating to a charity that you would support. The charity gets some money, Ravelry gets some money, maybe the designer gets some money too if they are keeping a portion of the proceeds? Or, buy a pattern from a designer of a marginalised group. Maybe take time to seek out a designer whose work you love that is perhaps under-recognised. You'll boost their work by paying for their pattern. Again, Ravelry gets a cut, and then you can add that project to Ravelry to help raise the profile of that designer some more.
And Finally…
Ravelry has been hit by spammers over the past 72 hours. A group appear to have located a load of usernames/emails and passwords used on other sites on the internet. Some people use the same username and password on multiple sites, so they've been trying to access old accounts by trying those usernames and passwords, then adding current Ravelry members as friends. If you get one such spam 'friend' (that often has a dodgy looking link in the profile) click the 'report this profile' link.
Also, if you have an account you haven't logged into for a while, log in, and change that password to something unique and secure. Superb work.
There may be things that I have missed. I am frankly a bit more distanced from the fibre crafts community this past year or so, and I have only just dipped my toe back into the knitted waters this past half a week. After my collapse I sort of drifted away as I could no longer physically knit, and I am honestly so unpracticed at writing now that it is hard to form sentences from the jumble of thoughts. If I have missed something or could do something better, please leave a comment and tell me if you are able. Comments will be moderated.
---
---